Friday, September 9th, 2011
Tripawds is a user-supported community. Thank you for your support!
Dakota did great in her surgeries and is on the road to recovery.  Keep in mind this road has a much reduced speed limit.  No stairs, jumping, or running for 8 weeks and she will need our support to help get her around for a couple of weeks.   Standing for a few minutes and some steps a couple times a day is our goal for the next few days.  These restrictions are all for the proper healing of the back leg which required breaking of her bone and inserting an implant.    She had a complete cruciate rupture of the cranial cruciate ligament and meniscal damage.    Her bone shapes allowed her to get a TTA over the TTLO  surgery – which was great because it has less cutting of the core part of her bone and will give her more stability.
Yes, we were a bit anxious to see Dakota.  We wanted to see how she was doing and give her encouragement but at the same time worried how the amputated leg and back fixed leg was going to look like.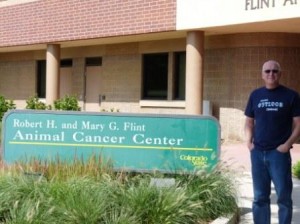 The staff at CSU did an awesome job taking care of her and giving her love.   Dakota made sure and thank'd them with lots of wags of the tail and a perky head up whenever someone came by.  They were proud of her and sad to see her go at the same time.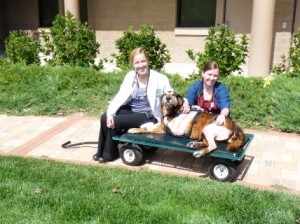 The awesome Doc's at CSU showed how to help her to stand upright and take a few steps.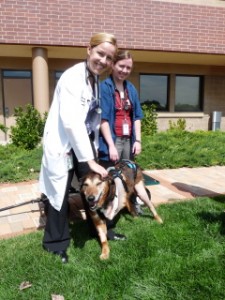 Here is the first look at the wounds.  She' a bit naked looking with the shaved leg and torso.  The actual stitches on  her hind leg is on the inside.  And well, of course it is an adjustment to see the amputation site.   ahh, Dakota is trying to reach out to give a kiss.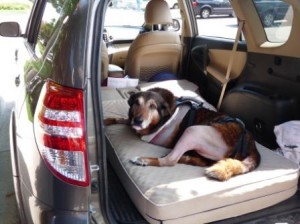 Oh such a happy dog!   So happy to be in the CAR on her BED and on her WAY HOME !