Tripawds is a user-supported community. Thank you for your support!
Dakota got up on her own again this afternoon after laying around looking depressed for most of the morning.
So, we took her outside to feel the grass under her paws and sniff out those pesky squirrels.  She had to say hello to Gus and May (her neighbors) who were out.  Her dear co-parents (who take awesome care of her when were out of town) came over at lunch.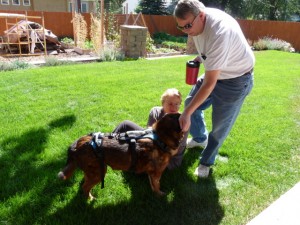 She either had to show off or she really had to pee.  I think it was the later.  After about 10 mins and us all hanging around outside she got up on her own again and started hopping her way over to her pee area.  And yes it was a long one.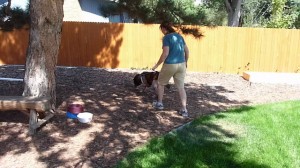 She walked around a bit more on her own and is now resting wonderfully in the grass.